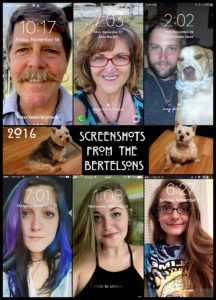 I am feeling SO proud of myself that I actually got this accomplished BEFORE the beginning of December even!!
I mailed out the 70+  cards we are sending on Nov 30th!!  I like to wait until those have been delivered (well at least the majority of US bound ones, I know the UK, Japan, Canada & Mexico ones will take longer) before I post the online version (you can click on the photo for a larger version.)
2016 prooved impossible to actually get all 6 of the Bertelson Bunch actually in the same place at the same time! Having adult children (7 more months and ALL 4 of the M&M's will be in their 20's !!!) means that work & college schedules don't play nice.
So we decided to stick with the Modern Technology theme again this year. Last year we "tried" to do a #SelfieStick shot but ended up using a lovely photo taken by our oldest daughter's fiance Jonny.  So this year (since let's be honest we all spend a large chunk of our daily lives looking at our cell phones) we decided to do a screenshot of our phone with a recent photo of ourselves as the background.
Question: Anyone figured out the significance of the times on each screenshot?
That way everyone could email me the screenshot and I could whip up the 5×7 photo card design … AND I got to use the AWESOME Walgreens 50% off (LIVEITUP50) coupon!!
Matt managed to get his pup Maitei in his screenshot and I added in recent photos of our 2 pups.
So as this crazy year ends, we wish you all a MERRY CHRISTMAS and may 2017 be AMAZING!!!
Enjoy – here is the link to ALL the past Annual Christmas Photos