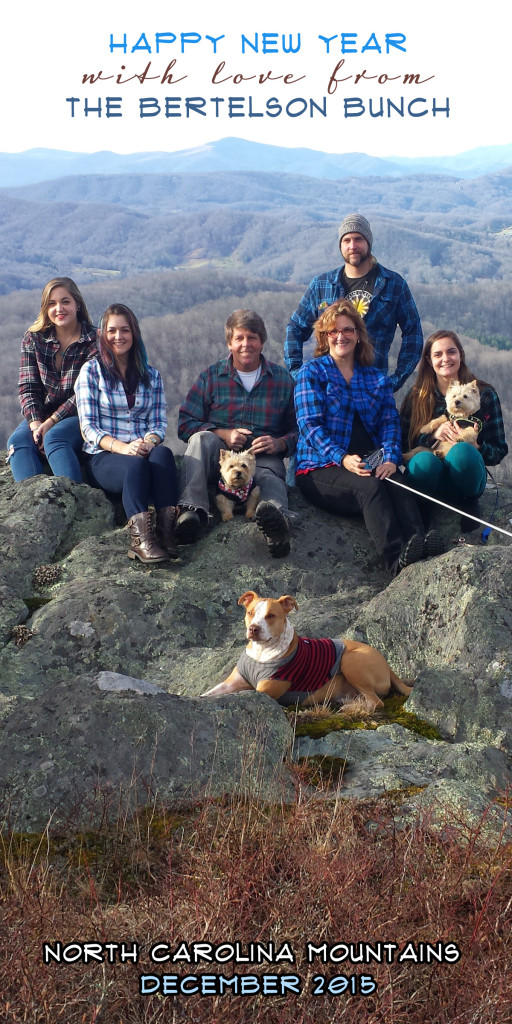 The original plan for our Annual Family Photo this year was to do a Selfie Shot of the family.
Since 2015 is the year of the #SelfieStick – combined with that I wanted to do it in a HIGH location (knowing that we would all be up in the Appalachia Mountains for Christmas at our Bertsnest Cabin)
So I took LOTS of selfie shots – and as you can imagine with 6 people plus furkids, there was someone either cut out of the frame or with closed eyes or looking the wrong way in every one !! (I will pick out the best and upload them as a "blooper album" HaHa
Meanwhile Jonny (our oldest daughter Melanie's FIANCE – he proposed to her on Christmas Eve) was snapping shots of us with his camera phone … and HE is the one that got the winning shot.
So ironically my #SelfieStick is lying in my lap – HaHa
All 3 dogs looked perfect too, because a dog barked in the distance and so all 3 of them perked up their ears just as Jonny took the photo!
What a magical time we all had up in Blowing Rock/Boone.
Here's wishing ALL of you reading this a Happy New Year – may 2016 be AMAZING!!!
Enjoy – here is the link to ALL the past Annual Christmas Photos