So you think our 2012 Annual Family Christmas Photo is Photo-Shopped eh???
Well it's NOT – and below I will show you the proof!
These photos show the whole process ….
from
– arriving at the beach (Reef Road, Palm Beach)
to
– digging the hole,
– getting into the whole,
– being buried by mounds of sand,
– being tortured with love by the pups while buried,
to finally
– getting out of the whole caked in sand
… feast your eyes – they are quite amusing 🙂
as you can see the dogs weren't quite as disinterested as the FINAL PHOTO (below) portrays them to be – but it did make me laugh as it appeared as though they were saying,
"We're not with them, this family is NUTS, we don't know them really!"
The photo below is the FINAL photo that is going out in the Mail and being released online for this year.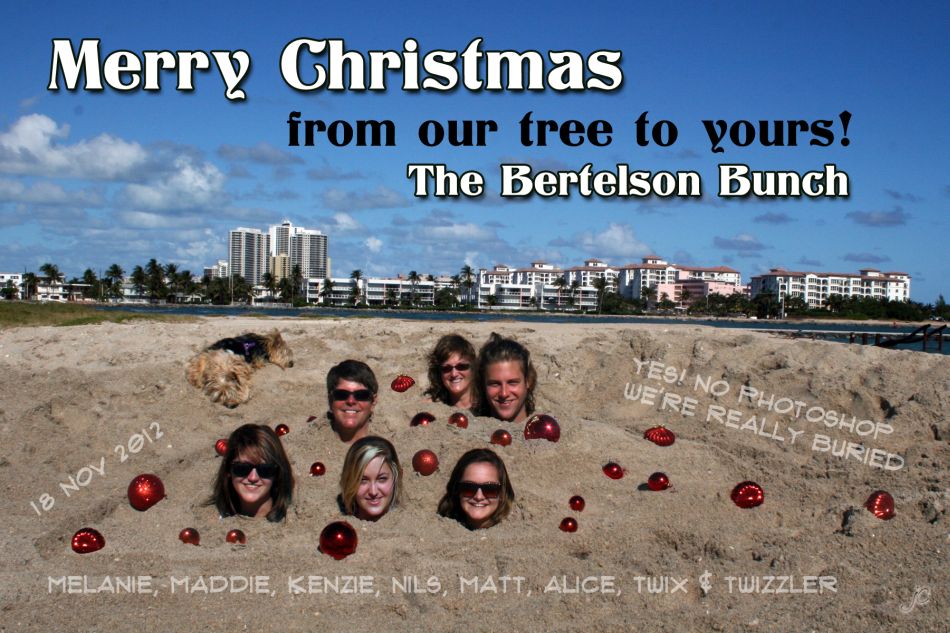 It's a different size (4 x 6) to the one used in the header on this website, but it's the same photo, but with more sky above, sand below, different font for text in the sand and different placement of the text added – which was (yes) added in Photo-Shop – but WE are NOT Photo-Shopped into the sand as some are thinking upon seeing the photo 🙂
Finally – if you want to see our Annual Family Photo from previous years, they are on the following page